Available in over 100 standard shapes and sizes!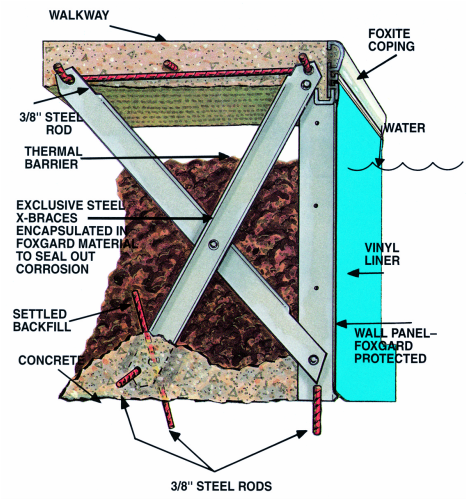 As show in the diagram above, there's no need to equalize water and backfill pressures when constructing a Fox pool. With an X-BRACE or a Z-Bar every 2′, vertical walls are extra strong. Braces are bolted and Z-Bars are welded with a non-corrosive silicone bronze (and even that is powder coated for even more protection!).
On straight walls, Fox uses heavy gauge steel U channel stiffeners at the top and L channel stiffeners at the bottom to assure that all walls are perfectly straight.
Benefits to You!
Pool is self-standing at all times.
Backfill, pour concrete decking immediately without concern for earth settlement or frost upheaval – deck is supported on X-Brace™ Pool system.
Drain your pool with no fear of wall collapse or distortion.
Pool will retain its like-new shape for as long as  you own it, protecting your investment and giving you lasting value.
Visit Fox Pools for more information on their products.